BaRBIE the BEaUTY QUEEN SLaVE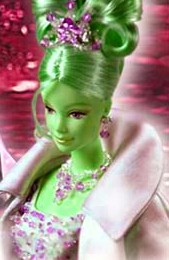 From that phonebox in the Martian mall
He saw yellow slaves go by
This callow sight did so appall
Our hero's jaundiced eye
Bea YawzELLEff


Forgetting all about the mission
He dropped the phone receiver
One alien slave was mesmorising
His eyes he couldn't believe-a
Lady D

The hero of this saga
Decided there and then
No more NASA missions
(By the way, his name is Ken)
Bea


Barbie filled his mind and heart in one go
And he was lovesick and happy and full of woe
He walked right up to her to say how-do-you-do
She didn't understand, she's from the planet Moo
vox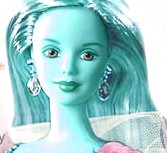 Poor Ken he does not know!
This is not the real Barbie,
She is an impostor you know.
Queen of Martin Witches, you know..
dippy


Martian Witches
A Martian witch is really mean!
I think I know the reason...
The color of her face is green,
and really isn't pleasin'.
Mike


Her face is green and ghastly
The rest of her is yellow
But this witch is lovely
Despite complexion sallow
Lady D

To be mean or not to be....
Lady D says she's lovely
And Mike says she's mean
Is she really beautiful
This green and yellow queen?
slug


Oh Slug, you know she really is a dish,
complection of green and yellowish...
Her color fits in a slug dish....
Maybe that is her wish...
dippy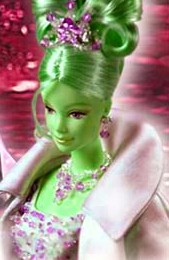 The Barbie queen who was a slave
Blushed dark greenish blue
She thought our hero so refined
That's why she went this hue
Troubadour

A problem (com)posed
Heroic impulse flooded him
A rescue was in order
But how to free a yellow slave
From a Martian warder?
Lady D



Camouflage seemed the only answer,
so he adorned himself as a martian dancer.
The makeup, I'm told, was quite extraordinary.
But as it turned out, it wasn't necessary.
pag


He danced right up among the slaves
As they danced for their master
He was taken in as one of them
Will they escape, avert disaster?
Troubadour


They danced a special magic dance,
A spell was put on the master,
They danced away into space, yah!
And no one came after
dippy




Our hero is now in a harem
Dressed just like the girls
With makeup off now will he scare 'em?
Or deceive them with his curls?
Lady D


Martian Goo
But, how did he end up back with the girls?
Was an evil spell placed on him too?
Alas! It was the Martian master's secret weapon
A double-barreled gravity gun with crazy glue!
der blumers


CONFUSED
You're telling us they are not free?
Oh dear, I thought they were
The yellow bellied green faced slaves
Did the master recapture?
Lady D

Stinky Martian Breath
He superglued their bottoms
To the floor right by his side
They're desperately wriggling
His breath they can't abide
slug
GO TO Chapter 4
RETURN TO CYBERSAGA CONTENTS MENU

Got the general idea?
Ready to add to this great adventure??
RETURN TO THE CYBERSAGA MESSAGE BOARD